Panasonic DVM-CLA Mini-DV Head Cleaner
Maintain DV or HDV recording head in optimal recording performance.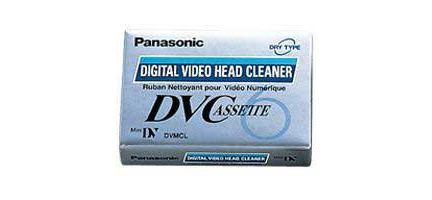 The Panasonic DVM-CLA mini-DV Head Cleaner

Dry cleaning system

Cleans entire tape travel path

Load the DMV-CLA mini-DV head cleaner tape and run for 10 seconds to maintain optimal recording performance for your camcorders.
Suitable for all Mini-DV camcorders or any HDV camcorders
---
Comments
Send us text message for immediate response.


(502) COLOR-LA
(502) 265-6752
$30.00

Panasonic AY-DVM63AMQ Advance Master Tape 5-Pack
Advance Master Quality Tapes, 63 Minutes, For DV and HDV Recording, 5-pack


$15.00

Panasonic AY-DVM63PQ Mini DV Tapes 5-Pack
Professional Quality 63 Minutes, 5-Pack