TV Remote Control for TakyBox HDMI Player
Wireless TV Style Remote Control for TB Dongle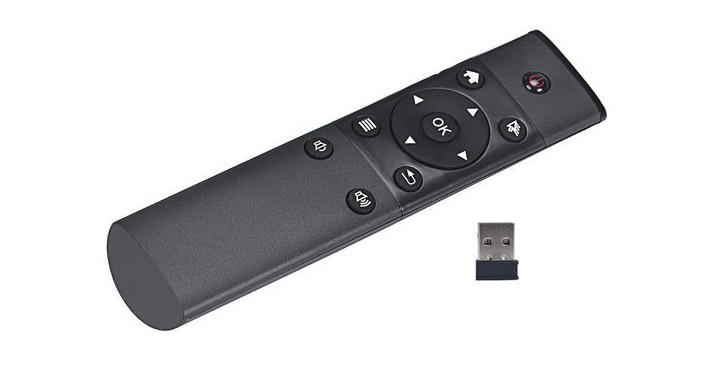 TB Dongle
is the new way to deliver film digitally with the familiar DVD style navigation menu generated by
TakyBox HTML5 Menu System
. The true functionality DVD/BluRay movie viewing experience can be retained by
TB Dongle
together with this 2.4GB TV Style Wireless Remote Control.
Using a 6-axis inertia sensor technology, the built-in sensor can achieve 360 degree space action recognition and sensing in high accuracy.
With the included USB 2.0 Nano Receiver Adapter, the TV Remote Control allows plug and play to the TB Dongle. It is specially designed for TB Dongle movie playback with TakyBox Menu system.
Specifications

Sensor: 3-Gyro + 3-Gsensor

Amount of key: 12

Control distance: 10m

Battery Type: 2 x AAA batteries (Not Include)

Working Power: Less than 10mA in the working condition.

Standby Power: Microampere, almost no power, in line with the European "Energy Star" environmental standard.

Product Size: 15.0 * 3.5 * 1.0cm / 5.91 * 1.38 * 0.39in

Product Weight: 40g /1.42oz

Color: Black
Two AAA Batteries are Required (Not Included)
You can also order this TV Remote Control bundled with
TB Dongle with Remote Control
at a discounted price.
---
Comments
Send us text message for immediate response.


(502) COLOR-LA
(502) 265-6752