First Look of RODE Stereo VideoMic Pro and NTG8
Posted on 4/12/2012 4:47:00 PM
James Biddle, Western Regional Sales Manager of RØDE Microphones, shows us the first look of the widely anticipated RODE Stereo VideoMic Pro and NTG8.
RODE Stereo VideoMic Pro
The Stereo VideoMic Pro builds on the feature set of the VideoMic Pro, with an ergonomic form factor perfectly suited to DSLR, consumer camcorders and large-sensor video cameras. The integrated shock mounting system provides superior isolation from vibration and mechanical noise that can otherwise degrade the recording quality. Additionally the lightweight yet robust multi-strand cable provides excellent acoustic decoupling from the camera and offers significantly lower noise transference than traditional audio cable.

The user friendly designed rear of the microphone body features the power and equalisation controls, including a high pass filter at 75Hz which is designed to cut out the noise generated by air conditioning, traffic and other undesirable low frequency interference.

A -10dB PAD allows the user to reduce the sensitivity of the microphone, making it suitable for recording loud sound sources such as live music or at sporting events.

The Stereo VideoMic Pro features a +20dB level boost specifically designed to provide a higher quality signal with DSLR cameras. When activated, the typically low quality camera preamp level can be reduced, resulting in a lower noise floor and much clearer recording.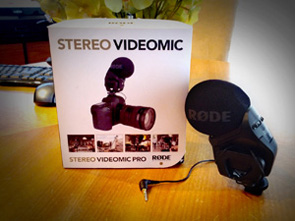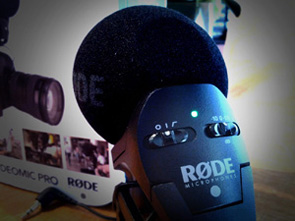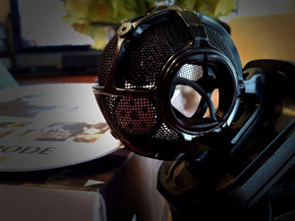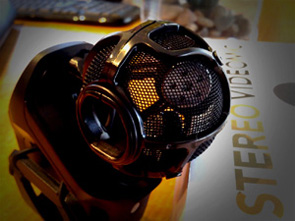 RODE NTG8
RODE NTG8 is a broadcast quality RF-bias shotgun microphone that exhibits increased directionality across a wide frequency response range. This makes the NTG8 the perfect microphone for film, television, sports and outdoor broadcasting, live performance, and any professional distance miking application.

NTG8 features low self-noise, natural sound without colouration both on and off-axis, and RF bias technology to ensure that it is almost completely resistant to high humidity environments which could cause other condenser microphones to fail.

The NTG8 is finished in matte black and supplied with a specially designed shock mount (SM8) that is engineered to provide excellent handling noise isolation, cable management and versatile mounting options for the microphone. A rugged weatherproof aluminium cylinder is also included, providing ultimate protection for the microphone when in transport or storage. The WSNTG8 windshield completes the package, providing light environmental protection.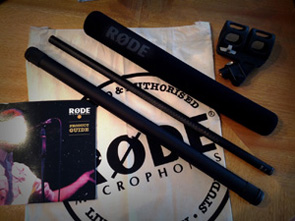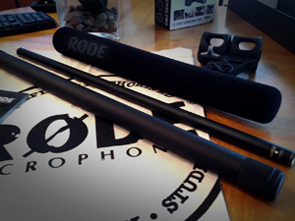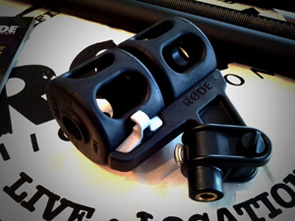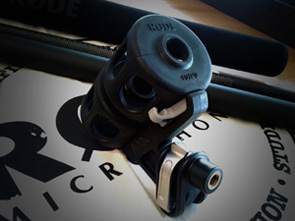 Both RODE Stereo VideoMic Pro and NTG8 will be available soon at L.A. Color Pros.
---
Comments
Return to blog home page Subscribe Mailing List
Comments on "ALL-I vs IPB"
"[b][/b] ..."
Posted by 3aplus63minee
on 4/19/2020
Read More

2017

2016
Dec 14
The Wedding Film Retreat
Nov 28
Playback Wedding Film with TakyBox on Amazon Fire
Sep 29
Special Discount for High Profile Wedding Cinema Workshop
Sep 9
TakyBox for the Spanish Audience
Aug 21
Photoshop, Bringing People Closer Together.
Aug 5
Flxing Flickering LED Issue
Jul 8
Falcon Media to Discontinue Blank BluRay Media Production
Jun 7
Mic'ing the Bride
May 26
A Windy Wedding Day
May 24
Trick out the Dual Channel Quick Charger with LCD Display
May 11
What Couples Should Be Looking for When Hiring a Wedding Videographer?

(1)

Apr 11
2-Day Cine School with Tom Antos
Apr 1
Summit for Event Filmmakers at San Clemente, CA
Mar 7
Data Recovery Presentation at WPPI 2016
Feb 29
Popular license music sites
Jan 28
Introducing TB Dongle
Jan 4
InFocus Video Conference 2016
Jan 1
Professional DVD and BluRay Production by Yourself

(4)

2015

2014

2013

2012

2011

2010

2009

2008

2007