Attaching Voice Recorder to Handheld Microphone to Capture Audio
Posted on 6/10/2013 8:43:00 PM
In our continuing effort to capture vocal recording in good quality at events, we have experimented with another "last resort" method. This has been accomplished by attaching a digital voice recorder to the handheld microphone.
To capture great audio at a live event, there are different methods to obtain great audio. Here we are experimenting with this new method by attaching a voice recorder to handheld microphone. We use Olympus WS-803 Voice Recorder and Sony ICDUX523BLK Digital Flash Voice Recorder because of their compact size, light weight, black body color, and a pair of built-in directional stereo microphones. It can be velcroed or rubber banded to a handheld microphone like this: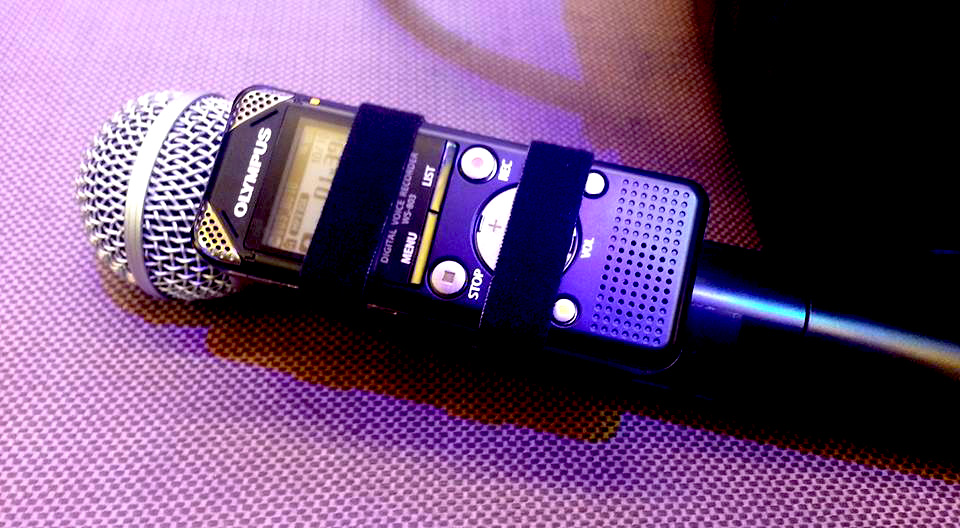 Before you think it is ugly or out of place, please be aware - when in use, most people will not notice it. Regarding sound quality, take a listen to the clip below. The first segment was the original file straight from the recorder without any processing. The repeated segment has Treble Filter and Bass Filter applied in Premiere Pro.


UPDATE
In another test with the Sony ICDUX523 Digital Voice Recorder, it delivers even better sound quality compared to the Olympus WS-803 without using any filter at post.



http://lacolorPros.com/blog/?10268-Fix-Voice-Recorders-Internal-Microphone-Shootout

This method would be a feasible solution. However, it should be considered as a backup or as a "last resort" for a videographer to obtain more than acceptable sound quality at an event.

Your comments and feedback are appreciated.
---
Comments
Return to blog home page Subscribe Mailing List
Comments on "ALL-I vs IPB"
"[b][/b] ..."
Posted by 3aplus63minee
on 4/19/2020
Read More

2017

2016
Dec 14
The Wedding Film Retreat
Nov 28
Playback Wedding Film with TakyBox on Amazon Fire
Sep 29
Special Discount for High Profile Wedding Cinema Workshop
Sep 9
TakyBox for the Spanish Audience
Aug 21
Photoshop, Bringing People Closer Together.
Aug 5
Flxing Flickering LED Issue
Jul 8
Falcon Media to Discontinue Blank BluRay Media Production
Jun 7
Mic'ing the Bride
May 26
A Windy Wedding Day
May 24
Trick out the Dual Channel Quick Charger with LCD Display
May 11
What Couples Should Be Looking for When Hiring a Wedding Videographer?

(1)

Apr 11
2-Day Cine School with Tom Antos
Apr 1
Summit for Event Filmmakers at San Clemente, CA
Mar 7
Data Recovery Presentation at WPPI 2016
Feb 29
Popular license music sites
Jan 28
Introducing TB Dongle
Jan 4
InFocus Video Conference 2016
Jan 1
Professional DVD and BluRay Production by Yourself

(4)

2015

2014

2013

2012

2011

2010

2009

2008

2007