AO Explore // An Interview on the Beach: A Navy SEAL and his Dog
Posted on 2/15/2013 6:34:00 PM
With permission from our friend Ryan Welch to repost this amazing story from AO Creative
AO Explore // An Interview on the Beach: A Navy SEAL and his Dog

Last week we traveled to Coronado, California to film a story for Life of Duty about a Navy SEAL and his dog. This is no ordinary dog. 'Chopper' is highly-trained and battle tested. See him on the sidewalk, and you may not see anything more than a well-trained German Shepard (part wolf), but get to know him and his owner, Trevor, more and you'll find out that Chopper has been deployed with Trevor numerous times and has saved lives.

In order to capture Trevor in an environment he's comfortable with, we decided to interview him on near the pier at Imperial Beach. This presented a fair amount of changes, but the results were worth it. Outside of dealing with the sand and moisture in the air, the primary challenge was light. Without a power source we went to our battery powered Comer lights. The lights filled in Trevor's face and as the sun went down behind Trevor, became our primary light source.

Here's a close up look at Trevor and our basic light set up.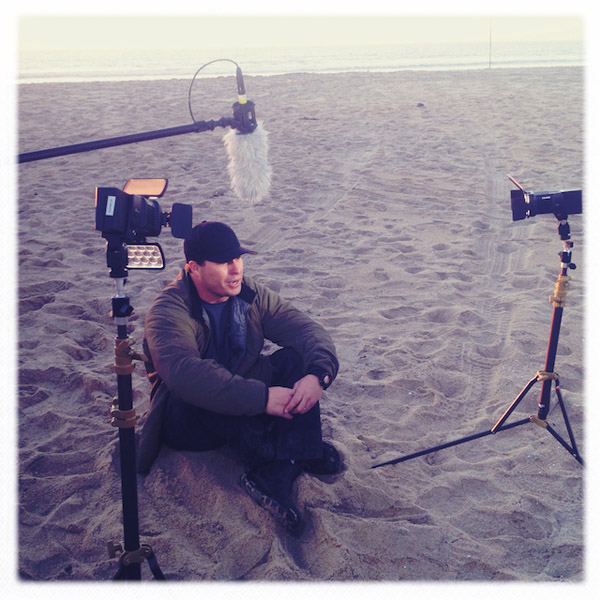 The setup as the sun went down behind the pier.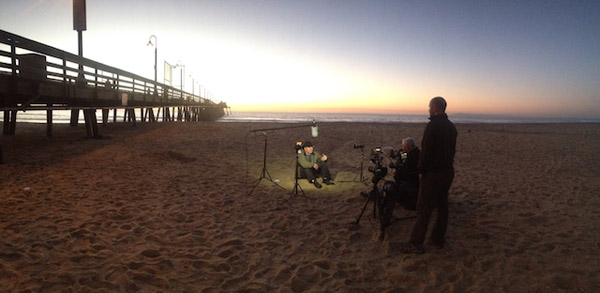 We started filming the interview around 5:00pm, and you an see the light change as the sun went down. The Canon C100's allowed for some amazing dynamic range in this shot.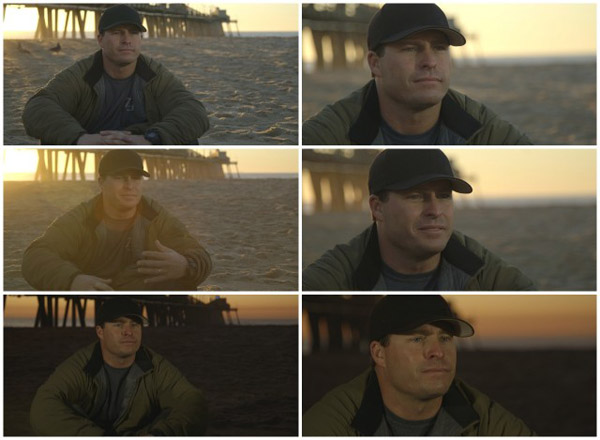 Here's a few more photos from the shoot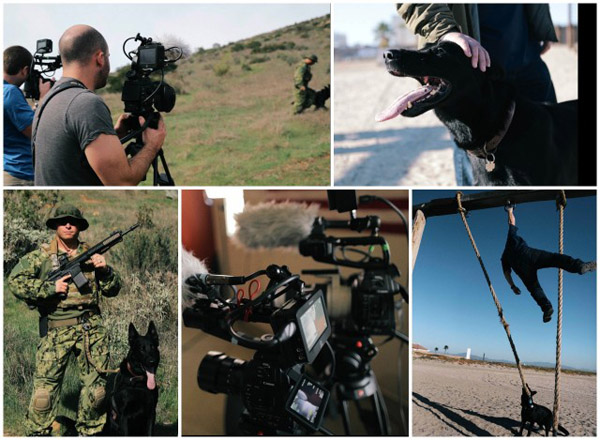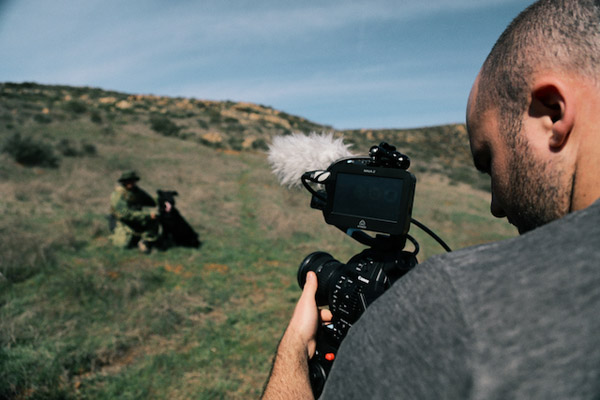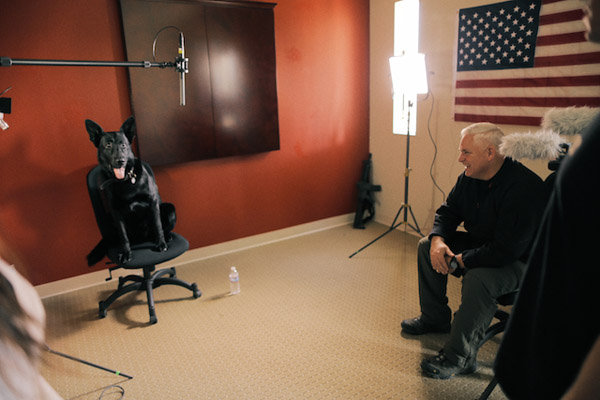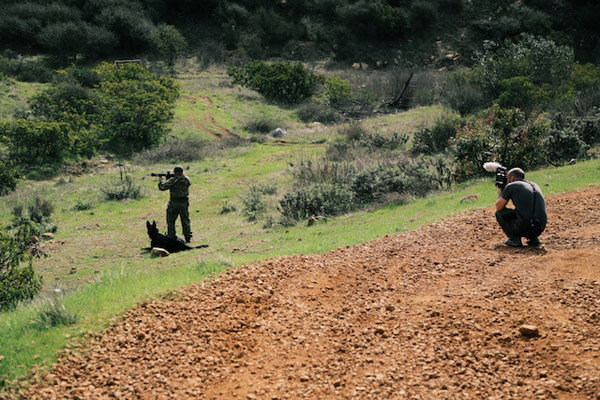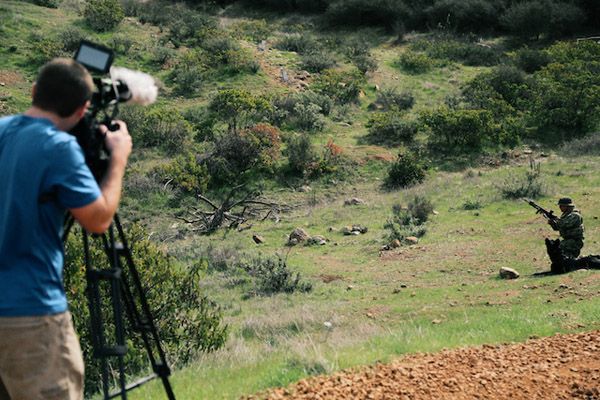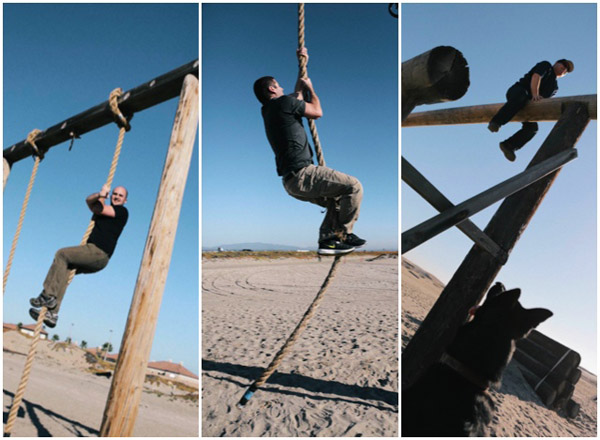 ---
Comments
Return to blog home page Subscribe Mailing List
Comments on "ALL-I vs IPB"
"[b][/b] ..."
Posted by 3aplus63minee
on 4/19/2020
Read More

2017

2016
Dec 14
The Wedding Film Retreat
Nov 28
Playback Wedding Film with TakyBox on Amazon Fire
Sep 29
Special Discount for High Profile Wedding Cinema Workshop
Sep 9
TakyBox for the Spanish Audience
Aug 21
Photoshop, Bringing People Closer Together.
Aug 5
Flxing Flickering LED Issue
Jul 8
Falcon Media to Discontinue Blank BluRay Media Production
Jun 7
Mic'ing the Bride
May 26
A Windy Wedding Day
May 24
Trick out the Dual Channel Quick Charger with LCD Display
May 11
What Couples Should Be Looking for When Hiring a Wedding Videographer?

(1)

Apr 11
2-Day Cine School with Tom Antos
Apr 1
Summit for Event Filmmakers at San Clemente, CA
Mar 7
Data Recovery Presentation at WPPI 2016
Feb 29
Popular license music sites
Jan 28
Introducing TB Dongle
Jan 4
InFocus Video Conference 2016
Jan 1
Professional DVD and BluRay Production by Yourself

(4)

2015

2014

2013

2012

2011

2010

2009

2008

2007