TakyBox V3 Official Release
Posted on 1/2/2017 1:58:00 PM
It's been baking for a year, LA Color Pros proud to release TakyBox V3.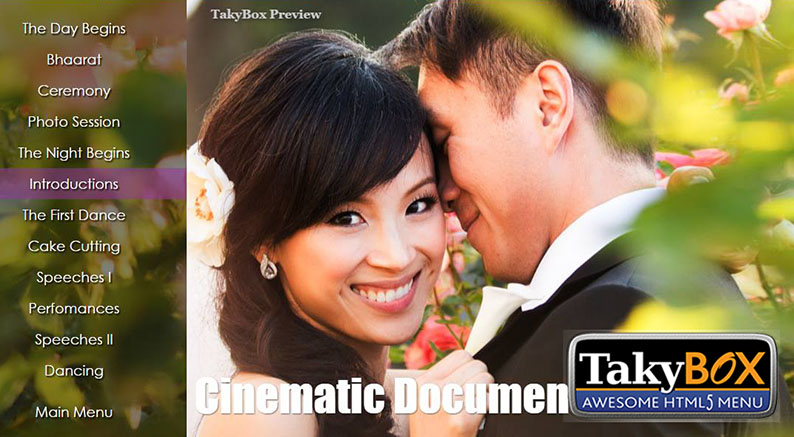 It's been a year baking . We are officially releasing TakyBox V3. TakyBox is an HTML5 Menu for Event Filmmakers to deliver professional DVD style menu on USB drive or Online. The newly redesigned TakyBox Console is a web app in organizing your projects, add menu, buttons and linking easily. It supports multi-lingual display, loop feature for bridal show, one-click ZIP file export etc.

TakyBox V3 also work with the TakyBox HDMI Stick (formerly known as the TakyDongle :) to playback films on any TV without the need to create DVD or BluRay.


New Feature in TakyBox V3

Buttons on menu can be aligned on Left, Center, or Right. left, right, center


Add a new Button style. Total of 3 button styles to select form.


Add dark and light text label scheme


Support video link from YouTube, Vimeo and Dropbox


Play list feature


Loop video playback feature. Suitable for setting up display at bridal show


Business name allow Serif and San-Serif font type


Add play control on top right of screen including return to menu, next and previous video link


Console can take project for future revision


Password control for online projects


Console password login reset


Block search engine robot crawling - private TakyBox project will not be searchable on the internet


Add text box overlay to menu screen. It allows adding additional message to the menu screen.


Add share icon to share link of TakyBox project, YouTube or Vimeo video link.


Revise license key process. It is now transparent to user.


New splash screen loading animations


Consolidate all settings into one index.html file.


Add Image Gallery to manage image file user uploaded.


User upload their logo image file and web icon file for deployment


User upload the menu background image for deployment.


Add function to switch menu type


Add compatibility to Internet Explorer


International language support


Support YouTube link from both youtube.com and youtu.be


Hosting support. You can register a new domain name Takybox will deploy the project too (additional fee required)



Zip file download. No need to export individual menu or settings file. All in zip file export.


Brand new color picker popup in Console


session expired re-login prompt. Will not force closing screen lose all your changes


new popup help system

Check it out and sign up for a FREE TRIAL today!

http://takybox.com
---
Comments
Return to blog home page Subscribe Mailing List
Comments on "ALL-I vs IPB"
"[b][/b] ..."
Posted by 3aplus63minee
on 4/19/2020
Read More

2017

2016
Dec 14
The Wedding Film Retreat
Nov 28
Playback Wedding Film with TakyBox on Amazon Fire
Sep 29
Special Discount for High Profile Wedding Cinema Workshop
Sep 9
TakyBox for the Spanish Audience
Aug 21
Photoshop, Bringing People Closer Together.
Aug 5
Flxing Flickering LED Issue
Jul 8
Falcon Media to Discontinue Blank BluRay Media Production
Jun 7
Mic'ing the Bride
May 26
A Windy Wedding Day
May 24
Trick out the Dual Channel Quick Charger with LCD Display
May 11
What Couples Should Be Looking for When Hiring a Wedding Videographer?

(1)

Apr 11
2-Day Cine School with Tom Antos
Apr 1
Summit for Event Filmmakers at San Clemente, CA
Mar 7
Data Recovery Presentation at WPPI 2016
Feb 29
Popular license music sites
Jan 28
Introducing TB Dongle
Jan 4
InFocus Video Conference 2016
Jan 1
Professional DVD and BluRay Production by Yourself

(4)

2015

2014

2013

2012

2011

2010

2009

2008

2007