Backup and Editing Workflow
Posted on 1/8/2017 5:47:00 AM
We are sharing our backup and editing workflow.
Needless to say, backup is important for our line of business. This is part of the PowerPoint we shared at our Backup and File Recovery presentation. A few things,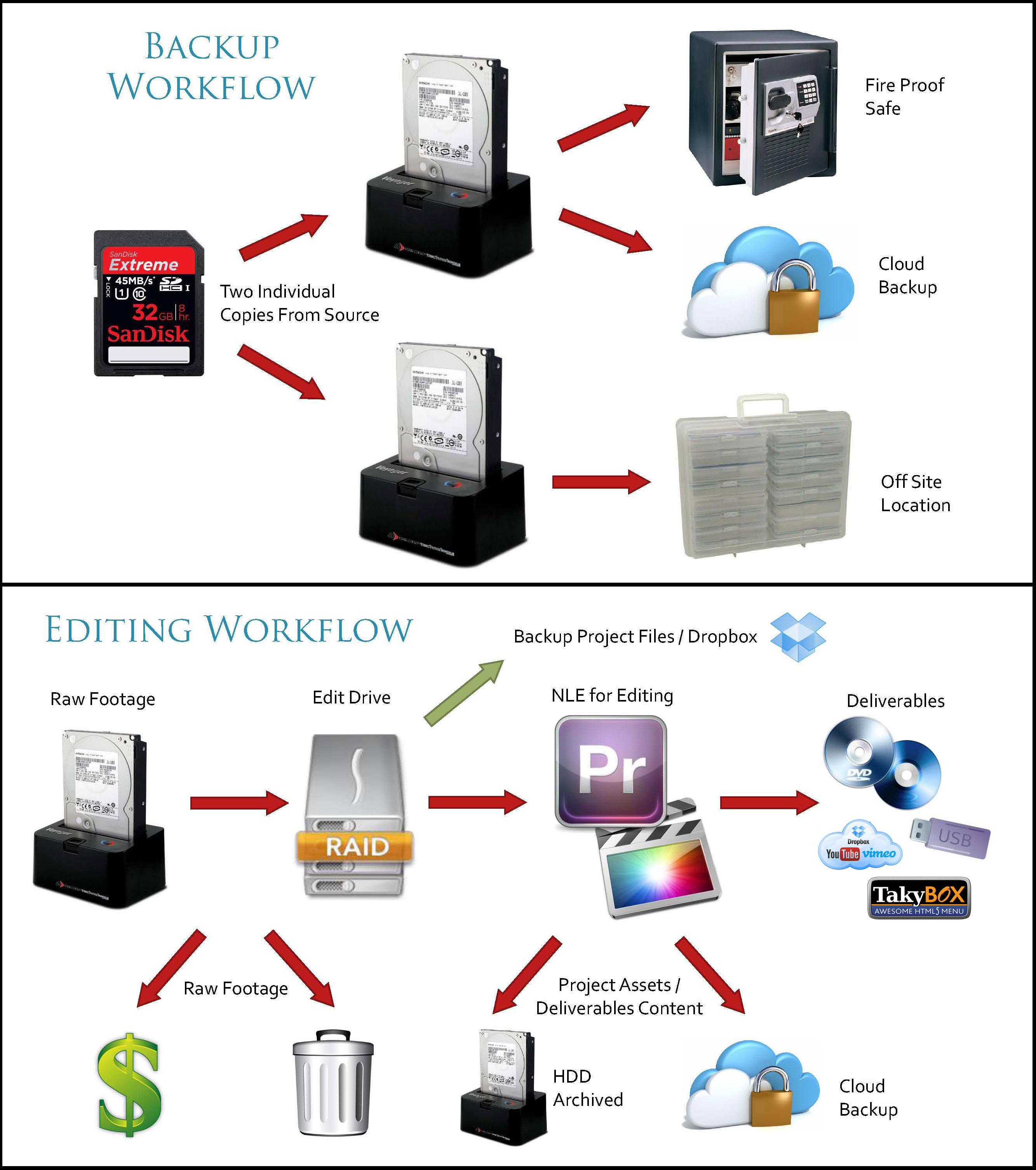 BACKUP WORKFLOW

it is important to make two copies from the source. Don't make the second copy from the first copy.


I don't actually put one local copy to fire proof safe. I keep one copy at home. One copy at office. Dave Williams at CinemeCake keep one copy in fireproof safe.


Cloud backup is slow. But it's a peace of mind. I'm in California. Imagine earthquake can destroy both copies in my house and office. The cloud copy will still be there. But I use Crashplan.. and I was told Crashplan has their server farm also in California. If that's really happen, I'm doom anyway.


EDITING WORKFLOW

Saving project files to Dropbox is awesome. Dropbos automatically create versions of the same file within 30 days. I can easily recall a previous edit


I use RAID-0 as my editing drive for the speed (3x 1TB SSD). I have a backup system running but actually it is not necessary.. Since I already have 3 versions of the RAW file. the version on the RAID drive is the 4th version. And project files will backup to dropbox automatically.


After project delivered, raw footage could be trashed or try to sell to the couple for extra money telling them raw footage will be permanently removed if they don't buy it. I deleted my 2 local backups after a few months. But then actually there is another version online in crashplan. I can contact the couple few years later saying "hey I found your raw footage. do you still want them for $300 ? :)"
---
Comments
Return to blog home page Subscribe Mailing List
Comments on "ALL-I vs IPB"
"[b][/b] ..."
Posted by 3aplus63minee
on 4/19/2020
Read More

2017

2016
Dec 14
The Wedding Film Retreat
Nov 28
Playback Wedding Film with TakyBox on Amazon Fire
Sep 29
Special Discount for High Profile Wedding Cinema Workshop
Sep 9
TakyBox for the Spanish Audience
Aug 21
Photoshop, Bringing People Closer Together.
Aug 5
Flxing Flickering LED Issue
Jul 8
Falcon Media to Discontinue Blank BluRay Media Production
Jun 7
Mic'ing the Bride
May 26
A Windy Wedding Day
May 24
Trick out the Dual Channel Quick Charger with LCD Display
May 11
What Couples Should Be Looking for When Hiring a Wedding Videographer?

(1)

Apr 11
2-Day Cine School with Tom Antos
Apr 1
Summit for Event Filmmakers at San Clemente, CA
Mar 7
Data Recovery Presentation at WPPI 2016
Feb 29
Popular license music sites
Jan 28
Introducing TB Dongle
Jan 4
InFocus Video Conference 2016
Jan 1
Professional DVD and BluRay Production by Yourself

(4)

2015

2014

2013

2012

2011

2010

2009

2008

2007